Crossing the borders:
Spanish and other languages and literatures in contact
This II international congress is a joint initiative of the Research Group CROS of the Department of Linguistics and Literary Studies (Spanish language) at the Vrije Universiteit Brussel (Belgium) and the Department of Spanish at Ghent University (Belgium).
The congress will take place at the Vrije Universiteit Brussels (Pleinlaan 2, 1050 Brussels, Belgium) on February 7 – 8, 2024 (in-person event).
Keynote Speakers
       Literary and Cultural studies
Julio Cañero Serrano (Universidad de Alcalá de Henares – UAH):
El colonialismo interno estadounidense a través de la literatura y los medios audiovisuales: De  Rudolfo Anaya a 'Penny Dreadful: City of Angels'.
        Spanish as a foreign language (ELE)
Catalina Fuentes Rodríguez (Universidad de Sevilla):
La didáctica de la sintaxis discursiva en ELE.
       Linguistics and languages in contact
Osmer Balam (The College of Wooster):
On the structural limits and possibilities of Spanish/English Code-switching: Cross-community multilingual outcomes.
Call for papers
The ease of mobility of the 20th century accelerated contact between individuals and promoted the fusion and coexistence of two or more cultural systems, where more than one language intervenes in the(re)construction of identities. This second congress proposes to analyze the contact situations where Spanish enters into cross-fertilization with English and other languages and cultures, as it would be for example in Spain (Basque, Catalan, and Galician and other European languages such as French and Portuguese); in Mexico (Nahuatl and Maya); in Central and South America (Quechua, Aymara, Maya, and Guarani); in the extreme South of Latin America (Portuguese, Italian, and German); in the Caribbean and the Philippines (the creole languages); in the United States (English).
The congress welcomes presentations involving research in different fields such as linguistics, literature, cultural studies, translation, language acquisition, and migratory movements, around three main subjects:
1. Spanish in contact with other languages
The grammar of codeswitching: (morpho)syntactic, semantic, pragmatic, sociolinguistic, and psycholinguistic studies of codeswitching phenomena between Spanish and English, between Spanish and other languages, in bilingual or multilingual communities.
Different theoretical approaches towards codeswitching (generative theories, usage-based approaches, etc.).
The analysis of codeswitching in various types of data (oral corpora, literary works, experiments) and/or comparison between those types of data.
Comparison of codeswitching between various pairs of languages (Spanish/English vs. Spanish/Nahuatl vs. Spanish/Portuguese).
Comparison of codeswitching between Spanish-other language bilingual or multilingual communities.
Acquisition of multiple languages and codeswitching in bilingual children.
Other products of languages in contact (borrowings, anglicisms, convergence, etc.).
2. ELE [SFL]: Learning and interlinguistic pragmatics
Morphosyntactic, semantic, and pragmatic features of Spanish as a foreign language.
External and internal factors which account for how learners acquire an L2, L3.
Crosslinguistic influence and language transfer.
Pragmalinguistic competence in foreign languages.
Bilingualism, multilingualism, and language learning.
Cognitive and social benefits in multilinguals.
3. Migratory movements and identity (re)construction
Construction of hybrid identities related to particular language practices.
(Re)construction of identity in literature: hybrid narratives, self-writing (memoirs, journals, autofiction, etc.).
Representation of space, places, and borders: border (re)definition, maps in Literature, affective and emotional cartographies in writing.
Construction of the (im)migrant's social identity in the media.
Intermediality and generic hybridity in narratives from and about (im)migrants.
Metaliterature and Meta writing in hybrid identity narratives.
Race, gender, and sexuality in migratory narratives.
Transgenerational narratives and identity construction.
The conference languages are Spanish and English. Speakers have 20 minutes for their presentation, with a time for debate and questions at the end of each session.
We invite the submission of abstracts, which should not exceed 500 words (references not included). The abstracts should mention the main research question(s), methodology, and – if applicable – data and (expected) results. Bibliographic references/sources should be included separately in the space provided in the Google Form.
Abstracts should be submitted individually and will be reviewed anonymously.  
The registration details to be completed include: First and last name(s), institutional affiliation (full name, without acronyms, and country), institutional email address, ORCID number (https://orcid.org), and a bio-bibliographical profile (maximum 200 – 300 words).
Important dates
15.08.2023 – Abstract submission deadline
15.09.2023 – Notification of acceptance
07-08.02.2024 – II CROS Congress
Registration
| | |
| --- | --- |
| Early registration, until November 30th: | €120 |
| Registration from December 1st: | €150 |
| Conference dinner (optional) on February 7th: | €70 |
Registration fee includes all coffee breaks and two cold lunches.
On the night of February 7th, you can join us for a conference dinner. More information will be provided soon.
To complete registration of attendance, please fill out the registration form and complete the payment on this page.
Important notice for UGENT & VUB students:
Participation is free of charge for Bachelor and Master students from UGent or VUB. Those who would like to attend should send a message to cros.research@gmail.com (coffee breaks and lunches not included).
Those who would also like to participate in the lunches, coffee breaks, and/or dinner will have to register through the official form and pay the regular fee.
Publication
A selection of papers will be published. More details will be announced in due time.
Venue
The conference will take place at VUB's main campus (Pleinlaan 2, 1050 Elsene/Ixelles). Updated information will be announced in due time.
City of Brussels
Brussels, the capital city of Belgium, is a vibrant and cosmopolitan destination that offers a delightful mix of old-world charm and modern sophistication. The city boasts a rich history, breathtaking architecture, world-class museums, and an eclectic food scene that is sure to satisfy any palate.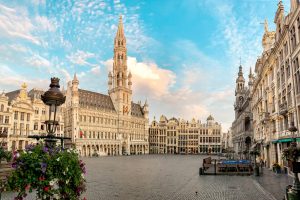 As you wander through the cobblestone streets of its historic center, you will be enchanted by the grandeur of the magnificent Grand Place, Brussels' central square, and a UNESCO World Heritage Site. It is the heart of the city's social and cultural life, surrounded by stunning guild halls, intricate carvings, and elaborate architecture. Just a short walk away, you can find the iconic Manneken Pis, a tiny statue of a peeing boy that has become a beloved symbol of the city. Other must-sees include the Atomium, built for the 1958 Brussels Worlds Fair and now an iconic landmark.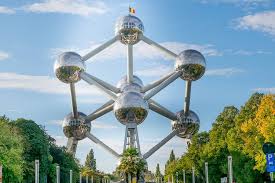 The Royal Palace of Brussels is the official residence of the Belgian monarchy and a stunning example of 18th-century neoclassical architecture. The beautiful 13th-century gothic Saint-Michel Cathedral is an important religious and cultural landmark in the city.
Brussels is also famous for its delicious cuisine. You will find no shortage of cafes, brasseries, and restaurants serving up a mouthwatering selection of traditional Belgian dishes, such as moules frites (mussels and fries) and carbonnade flamande (beef stewed in beer).
For art lovers, the city is a treasure trove of world-class museums, including the Royal Museums of Fine Arts of Belgium, which houses an impressive collection of Flemish and Belgian paintings, and the Magritte Museum, dedicated to the surrealistic art of the renowned Belgian artist René Magritte.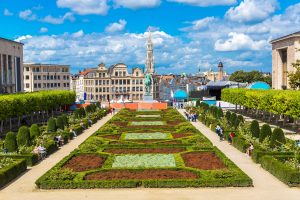 The city's history dates back to the Roman era, and it has been a prosperous trading center for centuries. Today, Brussels is not only the capital of Belgium but also the de facto capital of the European Union, as it is home to the headquarters of the European Commission, the Council of the European Union, and the European Parliament. The city's prominence in the EU reflects its status as a center of political and economic power in Europe, and it has helped to shape the direction of the continent as a whole.
Brussels' role in the EU has also had a significant impact on the city itself, bringing with it a diverse international community and a thriving multicultural atmosphere. This unique blend of history, culture, and modernity makes Brussels a fascinating destination for visitors from around the world.
Travel
When coming to the conference by train, the train station 'Etterbeek' is only a 7-minute walk away from the campus. Trains to Etterbeek can easily be caught from Brussels National Airport in Zaventem and Brussels' other train stations (Central/Centraal, Nord/Noord, Midi/Zuid).
For those who are taking the bus or tram, we suggest stepping off at the following stops:
From Wavre: E11 stop 'Ixelles plein'
Bus 95 – stop 'Etterbeek'
Tram 26 – stop 'Etterbeek' or 'VUB'
Tram 7 – stop 'Etterbeek' or 'VUB'
More information about how to reach the campus can be found here.
Accommodation
If this is your first time in Brussels, we suggest you stay close to Brussels center, this will allow you to enjoy all that Brussels has to offer its visitors.
Committees
Organizing Committee

Scientific Committee

Diana Castilleja
(Vrije Universiteit Brussel, Université Saint-Louis Bruxelles)
Diana Castilleja
(Vrije Universiteit Brussel, Université Saint-Louis Bruxelles)
An Vande Casteele
(Vrije Universiteit Brussel)
An Vande Casteele
(Vrije Universiteit Brussel)
Brenthe Tilburghs
(Vrije Universiteit Brussel)
Rik Vosters
(Vrije Universiteit Brussel)
Mariela Andrade
(Vrije Universiteit Brussel)
Guillermo Sanz Gallego
(Vrije Universiteit Brussel)
Gemma Rovira
(Vrije Universiteit Brussel)
Philipp Krämer
(Vrije Universiteit Brussel
Valentina Di Nunno
(Vrije Universiteit Brussel)
Renata Enghels
(Ghent University)
Anastasija Jagafavora
(Vrije Universiteit Brussel)
Ilse Logie
(Ghent University)
Renata Enghels
(Ghent University)
An Van Hecke
(KU Leuven, UAntwerpen)
Margot Vanhaverbeke
(Ghent University)
Kristine Vanden Berghe
(Université de Liège)
Laurence De Backer
(Ghent University)
Mar´´ia del Carmen Parafita Couto
(Universiteit Leiden, Universidad de Vigo)
Kristine Vanden Berghe
(Université de Liège)
Kate Bellamy
(Universiteit Leiden)
Gonzalo Francisco Sánchez
(Université de Mons)
Helena Houvenaghel
(Universiteit Utrecht)
Joëlle Lints
(Université Saint-Louis Bruxelles)
Catalina Fuentes Rodríguez
(Universidad de Sevilla)
Andrea Brandani
(Università di Bologna)
Silvia Betti
(Università di Bologna)
Barbara Pihler Ciglič
(Univerza v Ljubljani)
Contact
For further information: cros.research@gmail.com
Follow us on Twitter: https://twitter.com/CROS2024